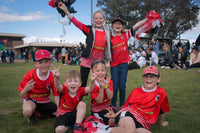 We are a family-focused football club
Boomers Football Club, established in 1956, is a successful and vibrant soccer club with a membership of over 220 playing members, drawn from our local community.
Our home ground and clubrooms are located at Glen Park, Glenroy.
Approximately 85% of our players are children and young men and women. Our members benefit from playing competitive soccer on a weekly basis. We also have a strong supporter base consisting of families, friends and local soccer fans.
More about us
Our major sponsors

Bertazzo Engineered
www.bertazzoeng.com.au
Spitwater
www.spitwater.com.au